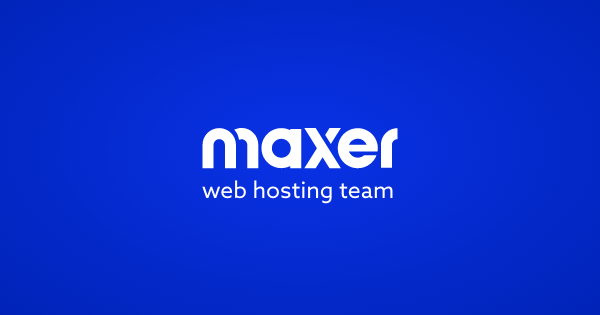 Celebrating 1 year with our new name MAXER
Published by Peter Armstrong on November 1st, 2023
We're celebrating one year since we re-branded with our new name MAXER.
Our team have been providing web hosting services for two decades. We've come a long way in that time and we're very grateful to our clients who have been on the journey with us. We have many clients who have been with us for 10, 15 or 20 years, and that's testament to the level of service and support provided by our team.
Why the new name?
A name is the cornerstone of any business. And our name reflects what we stand for. We are dedicated to maximising your web hosting service. We stand for maximum performance, maximum convenience, maximum service and support. We are here to provide premium level service at an affordable price.
We've generally received positive feedback. Clients like our new logo and realise it's the same great service and same hard-working team.
Whether you're a startup, e-commerce business, community group, freelancer or an agency, we'll be there to help. Our team is part of your team. #wereonyourteam
Celebrating throughout November 2023
To celebrate our 1st year with the new name, we're offering 30% discount on all new Enterprise Hosting plans and upgrades to Enterprise Hosting. Enter promo code enterprise-up-2023 at the checkout to receive discount. Our enterprise plans include additional resources to boost the speed and performance of your website. They are great for busier websites, e-commerce stores, and organisations with social media / marketing campaigns.
Additionally, the promo code can be used by existing clients who are upgrading to an Enterprise Hosting plan, for example from Plan 1/2/3 to Enterprise 1/2/3. Please contact our sales team if you have any questions.