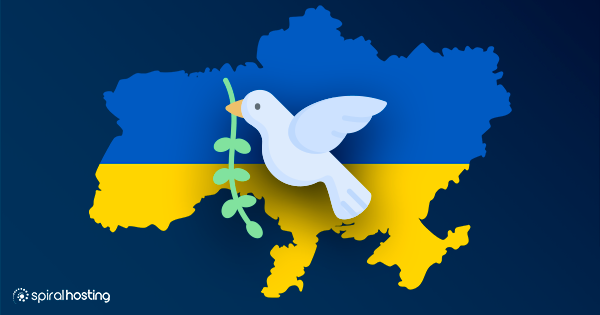 Ukraine Solidarity & St Patrick's Day
Published by Peter Armstrong on March 15th, 2022
Spiral Hosting are acutely aware of the horrific, unlawful and unprovoked war Putin's regime is orchestrating against the people of Ukraine. As an Irish company, every year we celebrate St Patrick's Day; we have an office party and we usually run some promotions for our products & services across our social media channels. This year feels different. Our mind is elsewhere. Frankly, our marketing ideas seem insignificant when we look at the catastrophic scenes facing the people of Ukraine. Our clients, partners and friends in Ukraine are facing the challenge of their life. Quite literally their lives are on the line.
The city of Kyiv is a bustling, vibrant, progressive, IT-savvy city. Or it was.
The attacks orchestrated by Putin's regime have left the city decimated. Residents are hiding in cellars or in the metro stations, anywhere they can hide from constant shelling. This attack is targeting 44 million people in Ukraine who think independently, who have their own progressive vision for their country, who have chosen democratically to be part of the European project.
Mariupol, the city of industry & enterprise, has 400,000 people trapped in bomb shelters, encircled by Putin's army, with no power, no water, no food and no heating. Temperatures drop to -10 degrees at overnight.
Regardless of differing opinions on the future journey of the peoples of Ukraine, the consequences of the invasion and the humanitarian crisis that Europe is facing is undeniably real. We encourage all of our friends, clients and partners to do their own research and come to their own conclusions. Only together can we ease the suffering and help heal the human pain at the heart of this war.
Some people will argue that businesses should not involve themselves in "politics". We disagree. This is far too important. As an Internet company we must do everything possible to support and connect people who believing in our values: Democracy, truth, freedom and peace 🕊
We're proud to have clients in pretty much every part of Europe and we feel we have a social responsibility to do everything possible to support those people facing war, destruction and starvation.
We have donated to the Irish Red Cross and and we're now matching the donation to Ukraine-Hilfe Berlin (Germany) and Save the Children (Romania). All three organisations are organising essential supplies, medical equipment, and children's clothing to those on the ground in Ukraine and refugees.
We'll continue to donate what we can to respective charities and we're encouraging our clients to donate too. We are committed to doing our bit for our community, including providing services to hundreds of charity and humanitarian organisations.
St Patrick's Day wishes for Ukraine 
If Ireland had a national colour, it would of course be green!
As an Irish company, the colour green will always be one of our favourites. It's our national colour! Every year the Irish government announces a "global greening". This is where landmarks like the Eiffel Tower, Empire State Building and Sydney's Opera House light up in green to announce St Patrick's Day! This year in solidarity with Ukraine landmarks will also light up in blue and yellow 🇺🇦
If you're artistic, you'll know that to make the colour green you need blue and yellow! A friend of our company (who is based in Ukraine) asked us "What happens when you mix blue and yellow? 💙💛 You get green! 💚".
Everything in our world is connected, what happens in one country can impact us here in Ireland. This St Patrick's Day we stand in solidarity with the people of Ukraine 🇺🇦 and we'll do everything possible to help them.
Please Donate What You Can
Please donate whatever you can to charities with a presence in/around Ukraine. Here are a few examples:
Ireland: Irish Red Cross
UK: British Red Cross
Germany: Ukraine-Hilfe Berlin
Germany: Medeor Emergency Pharmacy
Germany/Poland: Help Ukraine
Romania: Save the Children
Ukraine: National Bank of Ukraine (Army donations)
Australia: Unicef Children's Appeal
USA: Direct Help for Ukraine (medical supplies via Amazon)
UN World Food Programme