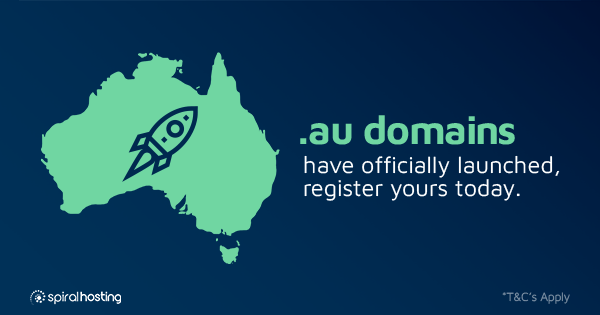 Launch of new direct .au extension for Australia $16
Published by Peter Armstrong on March 24th, 2022
The new .au extension has officially launched! Australians can register an .au name for the first time!! 
Until now there have been several second-level domain extensions: .com.au and .net.au for Australian companies/businesses, .org.au for organisations & non-profit associations, and .id.au for individuals. But let's be honest, there is little demand for .net.au and .org.au names, the .id.au extension has never been popular, and frankly Aussies have registered many more .com names! The new .au extension could change all that. This is the long overdue liberalisation of the .au extension. Finally individuals will be able to register names without unnecessary complexity.
Our price is pretty sweet too! A$16 per year for .com.au and .au names. That's one of the most competitive prices in Australia! 🤘
RELEASED IN THREE PHASES
The .new .au name will launch in three phrases:
–  Pre-order phase (10 March 2022)
Existing clients of Spiral Hosting were invited to pre-order names from 10th March . This phase has now closed. We're very happy to say 100% of the .au names in our pre-order queue were successfully registered for our clients and of course we registered our own SpiralHosting.au name!

– Launch phase (24 March 2022) 🚀
The .au extension has launched and Australians can register any direct .au name providing it is not on the hold list.
The "hold list" consists of millions of names reserved for the owner of the equivalent second-level extension (.com.au, .net.au, .org.au, .id.au). The registry refer to this as "priority hold". The hold list will stay in place until 20 September 2022 to give the owners of .com.au names sufficient time to apply for their .au equivalent. Companies/businesses that have registered .com.au names will be eligible to order the .au equivalent. For example if you own HarveyNorman.com.au you'll be entitled to the equivalent name HarveyNorman.au
There are some exceptions. Some names may have multiple competing claims and the .au registry will oversee the competition process. If you want to check your entitlement, you can type your existing domain name into the web form here: Priority Status Tool
If you're an existing client with Spiral Hosting, send our sales team a quick message with a list of the names you want to register. We'll get them registered pronto for you!

– General release (20 September 2022)
Anyone with an Australian presence can place an order for any .au name on a first-come, first-served basis. The names that were on the hold list between 24 March and 20 September will be released.
AUSTRALIAN PRESENCE REQUIREMENT 🇦🇺
The only registration requirement for the new .au extension is an Australian presence. Any individual or organisation with an Australian presence may register any available .au domain.
Note: Unlike .com.au names, there is no requirement for .au names to match the registrant's name or entity name.
The following are considered Australian presence:
An Australian citizen or an Australian permanent resident visa holder.
A company, organisation, association, co-operative, partnership, political party, trust, government entity, charity, educational institution, or partnership registered in Australia. See the auDA licensing rules for a complete list of eligible entities.
The applicant or owner of an Australian trademark, where the domain name is an exact match of the Australian trademark application or registration.
—————-
WEB HOSTING DISCOUNT & FREE .AU NAMES 
Great news! We've added the new .au extension to our list of free domain extensions available with our hosting plans. 🆓
Our hosting plans start of A$69 +gst per year and Aussies can  now get a free .au name on any hosting order.
Better yet, we're offering 25% extra discount on all Australian hosting plans until 30 June 2022.
Promo code: DOWNUNDER
You must enter this promo code at checkout for your 25% discount. You must choose "Melbourne, Australia" as the hosting location on the order form. Please talk to our sales team if you have any questions.
* T&C's apply. This promotion must end 30 June 2022. New/upgrades orders only. Discount on first billing period only.
This promotion is operated by Spiral Hosting Pty. Limited, ABN 57 615 483 899
We register .au names through OpenSRS, an accredited auDA registrar trading as Tucows (Australia) Pty Limited, ABN 38 144 482 002