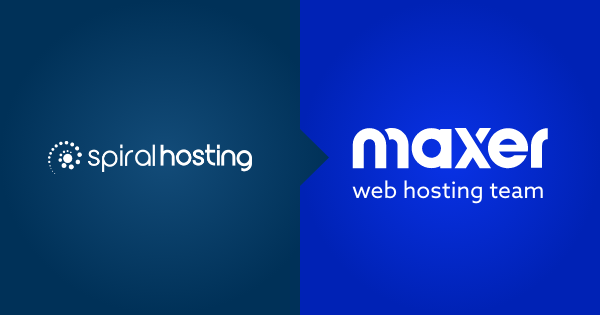 Spiral Hosting is now Maxer Host
Published by Peter Armstrong on October 28th, 2022
We are very excited to be sharing some business news with you.
This year we've created two new positions, a branding manager and a user experience manager, to make sure we provide the highest level of customer service. We've invested heavily in our website and client area, so it's user-friendly, feature-rich and functional.
Next, we conducted research and we found our business name Spiral Hosting was holding us back. Research indicated our name did not adequately reflect all of the positive aspects of our business. We looked at hundreds of potential names and we think we've found a star!
I am delighted to announce that we will be re-branding under a new name MAXER. Our new company website www.maxer.com will launch on Monday 31 October 2022.
On the Maxer website you'll be able to manage your client account and all your services. The new website will have the same functionality and a similar look & feel to the Spiral Hosting website. Your login details will remain the same.
Why a new name?
A name is the cornerstone of any business. We want our name to reflect what we stand for. We are dedicated to maximising your web hosting service. We stand for maximum performance, maximum convenience, maximum service and support. We are here to provide premium level service at an affordable price.
What will change?
We'll have a new name and a new logo. Same great service, same hard-working team, with a snazzy new name.
We will continue to offer the same level of high-performance hosting, a wide range of domain registration, and of course professional, friendly, customer service. Our team will be here for you round-the-clock.
Whether you're a startup, e-commerce business, community group, freelancer or an agency, we'll be there to help. Our team is part of your team. #wereonyourteam